History of High School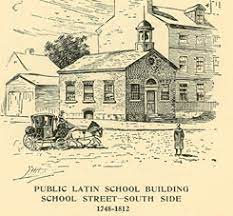 On April 23, 1635, a life-changing decision was made which affected almost all U.S. citizens. It was announced that the very first public school was now opened in Boston, Massachusetts. The Boston Latin School was established because John Cotton sought to create a place where young men could go to learn Latin and Greek. These young men could attend school regardless of social class; its purpose was solely to educate young men in the classics as a preparation for university entrance. 
Fast forward 140,745 days —  we are now in 2021 and times are completely different. Both men and women are now allowed to attend school to get a proper education. Not only does Lakota West still teach Latin, West also provides a curriculum with many different class options and not just the basics like math and science. Students have the option to take classes like gym, cooking, art, tech classes, writing class, and photography. Now, most importantly, high school is a place where you are supposed to set yourself up for success in "real life." College is where many students chose to go after their short journey through high school, but it's up to them if they take classes that will help them with their future. Whether you feel you have wasted high school away or have used your time here wisely and feel good about where your next chapter begins that's all up to you, but from students and staff here at Lakota West we wish seniors the best of luck as your life begins to take off!