West Style through the Years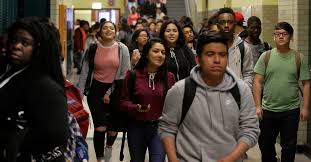 Style is a constantly changing concept that reflects the trends and social climate of the time. While style is never stagnant, there are often a few key trends that define a decade. The 80's had bold colors, styles, and hair. The 90's gave way to a more relaxed style, with ripped jeans and flannel shirts seen on everybody. While these are styles that defined specific decades, they have begun to pop up in current fashion, creating a new decade of style that mixes old with new. 
In 1997 West opened its doors for the first time, bringing forth a new wave of high school students who each had their own unique style. Bell bottoms, sweaters, flannel, and straight legged jeans were a staple at West. In the 1997 yearbook, pages were full of students pairing slip dresses with jean jackets, and wearing baby clips in their freshly dyed hair. In 2021, West recycled some of these looks and made them their own. Students now pair straight legged jeans with crop tops, flannels with leggings, and baby clips with curtain bangs. 
In 2000, West students focused on accessories, wearing chunky belts, belly button piercings, and beaded necklaces. Their choice in clothing was more bold, as stripes, plaid dresses,and bright colors were in. They paired these looks with blowouts and braids in their hair. While 2021 students have replaced plaid dresses with plaid skirts, and beaded necklaces with layered chains, some of the core fashion ideas of 2000 are still present today. Blowouts and bubble braids are in style now, and while the accessories have changed, they are now bold in their own way. 
2005 gave way to return to grunge. Students were choosing much more relaxed clothes. It would not be uncommon to see kids wearing fro and grunge, capri sweatpants, big baggy purses, and logo t-shirts. Students now parallel these same ideas. Logo and band tees are very popular in 2021, and capri is often seen around the halls. Grunge has also made a comeback, combat boots and ripped jeans are a staple in most girls' closets. While the "grunge" style now is more focused on ripped jeans and baggy t-shirts rather than just low effort outfits, the style of the 2000's heavily influenced the " grunge" style we see today. 
The last year is 2010, while it made me hard to believe this was over a decade ago. But in 2010, Lakota west hallways were filled with jean skirts, low rise pants, and scarves. But, these are not really super popular now. Maybe, it has been too soon for these trends to recycle. These trends have not been picked up by students, but if history has taught people anything, these jean skirts with scarves will be all the rage in twenty years.
Style is never stagnant. It changes constantly, bringing about new fashions and trends all the time. This year, West adapted to the new changes more than it usually does. Personal style is much more common this year, as some trends or styles sparked an interest in certain students, and they tailored a specific style based on those ideas. As Lakota West staples of the past, such as skinny jeans, change and adapt, West is starting the change with it more. No matter how much West's style changes, however, the leggings/sweatshirt combo is still here to stay.