Harry Styles: What's the Appeal?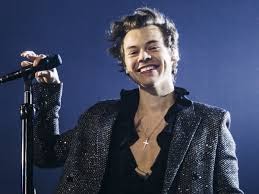 Unless you've been living under a rock, you have probably heard the name Harry Styles at least once or twice. Since his debut with the band, One Direction, in 2010 on XFactor, Harry Styles has become a household name. His good music, his great sense of style, and his lovable personality have catapulted him to the top of pop culture's hierarchy. At 27 years old, Harry Styles has already achieved so many firsts and he is only getting started. However, with his rise in popularity, some are starting to question how he has become so big. His huge appeal derives from many things including his caring persona and support for people of all kinds, his fight against gender stereotypes, and his overall immense amount of talent in many different areas.
Harry Styles is a singer/songwriter from the United Kingdom who first became famous when he was put in a band on XFactor in 2010. This band, composed of five teenagers, placed third but decided to stay together as a band named One Direction even after the show. Despite this third-place showing, they went on to release 5 albums, receive over 200 awards, and sell over 70 million records worldwide. They were together for five years and then announced that they were going on an 18-month hiatus in 2016.  This hiatus became permanent as the members started to pursue their own solo careers. Harry Styles, more than his bandmates, grew in popularity. So far, Harry Styles has released two albums, is set to star in three movies, and has received 35 awards and 104 nominations during his solo career. His large success is a clear representation of his talent.
Along with having a great deal of talent and success, Harry Styles is also a big supporter of the LGBTQ+ community. He has time and time again made his concerts an LGBTQ+ safe-space and preached equality and comfort. He encourages fans to bring pride flags to his concerts, and he also brings his own on stage. He acknowledges his privilege as a white male in this world, and he uses his privilege to make sure people feel accepted and not left out. In an interview with Rolling Stone, Styles stated "Maybe at a show you can have a moment of knowing that you're not alone. I'm aware that as a white male, I don't go through the same things as a lot of the people that come to the shows. I can't claim that I know what it's like, because I don't. So I'm not trying to say, 'I understand what it's like.' I'm just trying to make people feel included and seen." With such small actions as simple as just accepting people, he makes many of whom are young, closeted, and/or without access to a community feel seen, comfortable, and protected. Fans can count on him to be an ally.
Harry Styles has long been known by his fans for refusing to abide by gender norms. He believes that gender is a social construct built on the expectations of how men and women are supposed to be. Gender stereotypes, such as clothing, personality, and accessories, are starting to fade away and Styles is joining as well. He often wears women's blouses and accessorizes with nail polish and jewelry. He breaks the male "black suit" dress code by sporting vibrant florals and full glitter. He's being real with everyone about who he is, and he's having fun while doing it. While every controversial opinion comes with critics, Harry Styles holds his head high and abides by his motto: "Treat People With Kindness." His own self-expression not only makes him feel free but also encourages others to be themselves regardless of gender norms.
Obviously, being very attractive helps him a lot, but he also puts effort into making changes in the world. Whether he is advocating for "Black Lives Matter" or making phenomenal music, Harry is impacting the world in a positive way. He is not only a talented, attractive person, but he also cares for others. Harry Styles is truly an astonishing individual.