MLK Today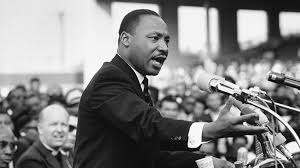 Martin Luther King Jr is perhaps America's greatest civil rights activist of all time. He worked tirelessly to ensure that African American citizens could have equal rights, even winning a Nobel Peace Prize for his work in 1964. Unfortunately, he was killed on April 4, 1968, just as the Civil Rights Movement was making major strides. In 1986, President Ronald Reagan signed a bill starting a holiday called 'King Day' to celebrate Dr. King's life and achievements on the third Monday of January every year. 
Many people, including athletes and celebrities, have voiced their opinion and reminded us to remember what Dr. King has taught us. With the huge problems still occurring in our country concerning racial injustice, this year's MLK day was much more important than usual. In the words of Dr. King himself, "Man must evolve for all human conflict a method which regrets revenge, aggression, and retaliation. The foundation of such a method is love." It is safe to say that about fifty years later, we have not evolved to the standards Dr. King spoke about. 
When Martin Luther King gave his famous 'I Have a Dream' speech on August 28, 1963, he spoke about his dream, saying to us that "It is a dream deeply rooted in the American dream." The American dream should not be just to make it big with capitalism but to live in a place where all shapes, sizes, colors, and anything else you can think of is welcomed with loving arms. It is sad to say that half a century after Dr. King's death, we seem to have forgotten everything he stood and fought for.