My Quarantine Story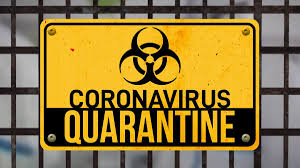 The day was Friday, December 4th.  My mother had not been feeling great, and two people from her work had tested positive earlier that week. Her work forced her to get a COVID test, and, as one would expect,  it came back positive. I was sitting in math class when I received a text around 9:30 is telling me to come home immediately. When I arrived at home, my mom hiding out in her room and my dad cooped up in his office. I was immediately sent to the basement and told to stay there until further notice. To make matters worse, my sister tested positive the day after my mom. So now I had to avoid both of them. I was now forced to sleep on the couch in my basement.
The weekend went by painfully slow, I had nothing to do. On Monday, nothing changed. My daily routine was to wake up at around 11:30, play some video games, look at Canvas, play more video games, think about doing homework, have some food, then play more video games, eat some more food, think about my assignments, then go to bed. About midway through my quarantine, I received the best news of the week. While checking my email I saw a new one from Lakota. I was extremely excited to see that my quarantine had been shortened from fourteen days to ten days. My boredom could come to an end sooner than I thought.
As the end of my quarantine approached, I was filled with excitement. As much as I thought I hated school, I really missed being here. Being in school is much better than online learning. I did absolutely nothing during my quarantine. I had no motivation and couldn't make myself do any homework. I am now so behind on my school work that I have an unhealthy amount of work to do before the semester ends.