Show Review: The Haunting of Bly Manor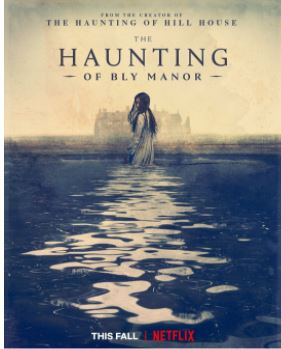 The Haunting of Bly Manor
Netflix Original Series
The Netflix original drama series" The Haunting of Bly Manor" combines chilling ghosts, suspense and a rare sense of gothic romance. Along with unforgettable life lessons of courage, empathy, family, and of course, the twists and turns of any good tv show.  This Netflix original series is a follow-up series to The Haunting of Hill House.
The story tells of a young bright-eyed American woman named Dani Clayton. She is hired by a man to look after his niece and nephew at the family country house after falling into his care. Arriving at the Bly estate, she begins to see apparitions that proceed to haunt the premises. This manor reveals a haunting past and series of unimaginable events.
This tv show I believe is like no other. It deeply highlights the one life and uncanny past stories of each character. The characters each have their own stories to tell, and this makes the tv show itself haunting. It is not the ordinary scare you get as some might think because of the title. Yes, there are parts where you might just want to leave the room and come back until that part is over, but the real scare comes from what history the manor holds and everyone in it. I am all for patience of storytelling and doing a little bit of work to get to the pay off, but " The Haunting of Bly Manor" takes that to the  extreme. Patience is a virtue. Here it's a chore. 
It certainly deserved an 87% score of Rotten Tomatoes , if it was longer it could have been a greater score.  This is a series I would have to watch again just to fully understand what was happening. There were parts that were questionable but were not answered for me in the show. The mood of course was dreary. I loved how they highlighted LGBTQ and interacial romanc;, it certainly did not hide what love can also look like. The tv show comes to you as a lesson to cherish life and the spooky tricks it has to offer which really stands out to me. It is definitely not what you expected and that is what makes this a masterpiece. As Flora would say " Perfectly-splendid".