Food Review: El Trompo
Mexican restaurants, being a popular food choice for high schools in the West Chester area, seemed worthy of review. Our first stop was at the newest Mexican restaurant, El Trompo, located on Union Center Blvd.  The instant we got out of our cars, we knew we were in the right place.  One of our favorite parts about the restaurant was how modern it looked. The front of the building is a big stone wall that makes it very appealing to the eye. Greeted on the front porch by great Spanish tunes and beautiful scenery of huge plants and flowers, we proceeded to walk inside. We were seated right away in front of some delicious chips and salsa were placed in front of us. After a bit of a wait, we each decided to order the El Trompo burrito. This burrito was filled with chicken, steak, onions,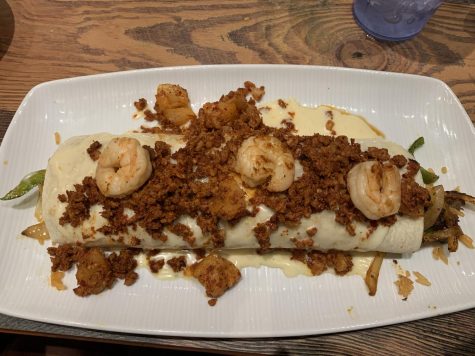 and bell peppers and topped with shrimp, spicy sausage, queso cheese, and red sauce. The chicken and steak were cooked to perfection. The mixture of the queso cheese and spicy sausage made the burrito feel like it was melting in your mouth.  Looking around, the restaurant was filled with captivating murals and very interesting flowers. Inside the restaurant, there are windows on the floor with pretty flowers and colors in them. Overall, we decided to give El Trompo a rating of 8/10. We are knocking it down two points for how poor the service was, but overall the food was very good.
Our next stop on the Mexican food review chain was El Rancho. El Rancho is a very known restaurant in the West Chester area. We were greeted at the door and immediately taken to our seat. With Spanish music playing in the background, we began to eat chips and salsa.  Although the chips and salsa were not as good or as spicy as El Trompo, they were still very delicious. We then ordered our meals. Colin ordered the cheesesteak burrito which was not comparable to the El Trompo burrito though the streak was still very tender  — it just did not have as much spice flavor as he expected. I ordered the quesadilla ranchera. The quesadilla was soggy due to the overwhelming juiciness of the chicken. However, it was saved by the delicious green chunky salsa that came with it. The food was brought out right away and we never once ran out of chips and salsa. The food here was mediocre at best. We decided to cap off the food review at El Rancho with a birthday celebration. They brought out a big sombrero and a Mexican dessert that was very tasty. Overall we give El Rancho a 7/10 rating. What they lost in flavor was made up for by the good service.
Overall, the Mexican food in the West Chester area is stellar. If trying to decide where to eat one night, be sure to add El Trompo and El Rancho to your list.