COVID-19: The End of Social Lives?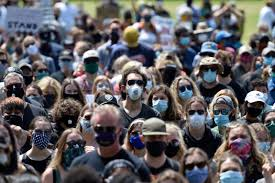 I know not a lot of you had a social life before COVID-19 hit, but those of us who did had to change drastically. Not being able to see my friends for almost 6 months was way too long. I know it isn't the end of the world, but the sudden change came as a shock to many people. Not being able to see friends and loved ones affected everyone mentally. Hanging out with friends is scary due to the fear of contracting COVID-19 and passing it on. From school dances to going out with significant others, we knew many things would be changed.
Then school rolled around. I'm sure by the time school came around everyone's moms were relieved you were going to school and getting out of their hair. No? Just my mom? Oh. . . Okay. . . Anyways, being able to go to school and see all of my friends was more than I expected. I mean, it's still school, but all my buds make the day bearable. Even though some people stayed home and did online school, it was only a small percentage of the school population, so it isn't really noticeable unless, of course, one of those people are your friends.
I was really disappointed when I heard that homecoming was going to be at home. I feel like if we're all at school congregating every day, what's the difference between being at school and being at homecoming? But I also understand that a lot of people would take off their mask when they get hot from dancing, and we can't have that. I just feel like homecoming is an important part of the high school experience, especially for the seniors. I just hope prom doesn't get canceled, because if prom gets canceled like last year, there is going to be a major uproar.
Every year I look forward to going to King's Island for Halloween Haunt, except this year it's getting canceled. It really sucks because Halloween Haunt is always a really fun time, especially when you go there with friends. I remember going to Halloween Haunt every year since I was in the seventh grade. Last year was the first year I went with my girlfriend, and we had a blast. I was really looking forward to going there with her again this year, but unfortunately, that won't be happening because of COVID-19. 
As the fall season begins, many are wondering what they should do with their free time. While many of the go-to events have been canceled, there are many other options that stay within the social distancing regulations. Be sure to enjoy your fall season while it lasts.