What is the Sadie Hawkins Dance?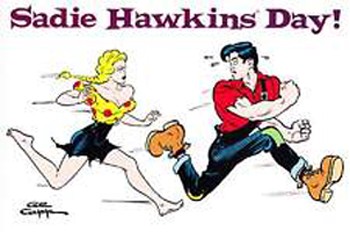 The annual Sadie Hawkins Dance, sponsored by the National Honor Society, is on March 7th, 2020 this year. The dance will run from 8:00 P.M. – 11:00 P.M. at Lakota West Highschool gym floor. The theme is "80s, Go Crazy, Go Wild" and NHS is expecting some awesome outfits. Traditionally, it is the girl who asks the guy to Sadie's.
What is the history of Sadie Hawkins? It is pretty unusual for girls to ask guys to a dance. The gender switch of making the boy wait and wonder if they will be invited comes from a musical cartoon "Li'l Abner." Sadie and other unmarried women would go around town trying to catch bachelors; if they succeeded the boys were obliged to go with the girls. So girls, what boy will you choose to take a trip back to Sadie's with?