Bee and Puppycat: Review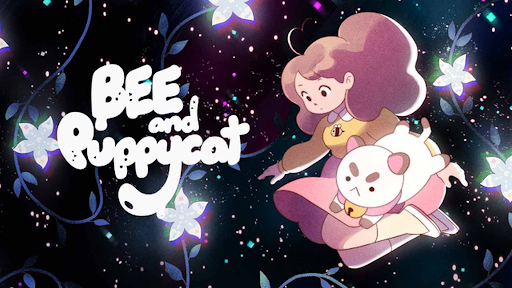 Bee and Puppycat was a show created by Natasha Allegri (who worked with the creators of Adventure Time) and was originally released by Cartoon Hangover on their YouTube channel, making the show free and easy to access. The show follows a young adult named Bee, who can't seem to hold down a job. But on a walk home one day, after wishing for another being to take care of, she stumbles across an animal in the rain who is a mix between a cat and a dog. Puppycat, the animal that was found, has a gibberish voice only Bee can understand. Puppycat ends up helping Bee obtain a source of income with a pink slip that transports them to Temp-bot. Temp-bot is a floating computer with a tentative personality. Temp-bot assigns them to jobs in worlds that are a mix of sci-fi and fantasy. Recently, Netflix decided to reboot the show and the series was released, titled Bee and Puppycat: Lazy in Space. 
The design of the show itself is very appealing. My favorite part of the design is the color scheme. They vary greatly but each one fits the individual scene it is put with. Along with an appealing color scheme, the updated version of the show comes with new costume designs. Each design is individual and personal to the character who is wearing the outfit, giving the show an organic feeling. 
The first three episodes of the Netflix reboot summarize the original series and as the show progresses more elements of fantasy and action are revealed throughout the series. In my opinion, the reboot did not downgrade the show but instead added to the appeal. Throughout the new addition to the series, we see Bee develop friendships with people and enhance her further with many such as Deckard, an aspiring chef along with her child landlord Cardamon. 
Bee's personality is almost childlike, but she still manages to keep an adult perspective on serious situations. She is friendly, kind, and gets along with most people. The childlike personality shown in the earlier episodes of the series helps establish her relationships with other people and different conflicts in her personal life.
My personal favorite friendship dynamic is Bee and Cas. Cas is sarcastic and dry, parallel to Bee who is funny and sweet. The two balance each other out well and always have funny interactions. The later episodes reveal more about Puppycat who she also has a balanced friendship with.
The show has tons of audience appeal with characters that have very relatable elements. The show is easy to take in because of its seemingly childlike exterior. Under that exterior, there are more serious themes, such as loss and grief. Bee and Puppycat: Lazy in Space gets progressively more plot based as the series advances and stronger themes are incorporated more often. I would say anyone of any age could enjoy this show and what it has to offer.