Scholastic Art Awards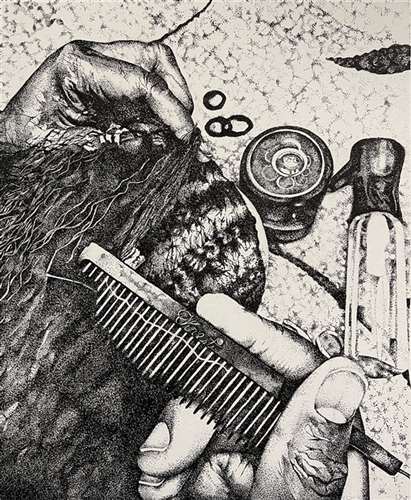 As you walk to your classes, you may notice posters with artwork on them adorning the walls. Maybe you might stop to stare or maybe you just pass them by, but these posters show off the success and excellence of Lakota West's art program. The posters showcase artwork that won national awards at the Scholastic Art Competition. This prestigious art competition is open to any 7th-12th grader from the United States, and it awards different levels of prizes, starting with regional Silver and Gold Keys,  and progressing to national awards Gold and Silver Medals. 
The art department started entering work around a decade ago and as the years go on, more and more students of Lakota West win. In fact, the number of awards has increased so much that the tradition of giving national medal winners their own banners on Mainstreet changed to putting up posters on the wall because of the lack of space. This year, a whopping 127 regional awards were won by Lakota West, far surpassing any other school in the area. 
The teachers of the drawing and painting program at Lakota West offer some insight as to why our school wins so many Medals.  Ms. Kessler, the photography and drawing and painting teacher, explained that " It's a priority to us. When we tell a kid they are good at art, they don't really believe it, so if they win an award, they believe it." The scholastic awards give the teachers another way to show students that their art is good art, so they try their hardest to enter many pieces in the competition. 
However, the Scholastic Art Competition is not the only art competition students who take art classes can enter. Ms. Gauer, the drawing and AP art teacher, also enters her student's work in "the Middletown Art Competition, Governors show, Eighth Congressional Competition, and Cincinnati Art Ovuture competition." Photo students also have the opportunity to enter the Evendale Photography Competition. All these shows give students ample opportunity to show off their art, regardless of skill level.
The interesting thing about the Scholastic art competition is students in any art class, whether it is Fine art 1 or AP art, win awards. In Ms. Gauer's AP class, "all of the AP kids won awards, so everybody was represented." Not only did the AP kids win numerous awards, but the students in beginner classes also did too. Bani Gill, a student who took Photo 1, won four awards. Despite Photo 1 being her first art class and first time winning awards, she won an American Visions nomination, an award only given to five people in the entire region (but that Lakota West won 3 of). Bani was " really surprised and [she] was really happy" when hearing the news. It's clear that under the instruction of the art teachers at West, even a student with no prior art experience can do really well in these competitions. 
Many students may not know about the excellence of the art program here at West. But it's a great opportunity for students to get recognized for their work, regardless of when they started creating.